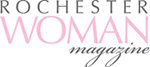 Care is the Key to Success
By Rebecca L. Ferguson I Photo by VeJay Broyld, Sr.
"Just don't give up trying to do what you really want to do. Where there is love and inspiration, I don't think you can go wrong." – Ella Fitzgerald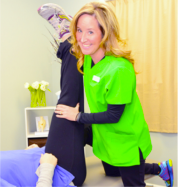 After spending a little time with Heather Nichting, owner of Regain Physical Therapy and Wellness, one is left feeling inspired by her genuine love, commitment and tenacity for her work with patients. Passionate in all she does, Nichting says, "I just love, love, love coming to work … everyone does, right?"
A graduate of Nazareth College in 2003, Nichting recalls her schooling and the manner in which she was instructed to deliver exceptional care to every patient, "One on one is how I was taught and that is how I have always practiced." She further explains, "of course a company can make more money when seeing multiple patients in a block of time, but for me, it has always been about the patient and what is best for their treatment."
Nestled in the picturesque village of Pittsford, NY along the canal on Monroe Avenue, Regain Physical Therapy PLLC, opened their doors for business in September of 2012. With strong growth just months after the grand opening, Nichting credits her success to creating and maintaining personal relationships with every person she encounters. This individualized approach with focused one-on-one attention, along with a all-encompassing outlook on overall wellness, business continues to grow. Nichting says, "word of mouth has brought so many new clients and is a tremendous compliment to the work we are doing." Her husband Mike Nichting joined Regain Physical Therapy in March of 2013, leaving a position with M&T Bank to allow Heather more time with patients as business was growing so rapidly. Since opening with just one other therapist besides herself, they have since brought on two additional therapy assistants to accommodate demand.
She further describes, "My patients have inspired me so much and I strive to deliver that same inspiration … we really do, we really all inspire one another and there has not been one day in my career that I have not looked forward to coming into work. If I have to come in a little earlier or stay a little later to accommodate the needs of my patients, I will. There is great reward in seeing someone achieve their goal."
Her upbeat tempo and cheerful demeanor is a perfect complement to the spacious environment ready to greet anyone who walks through the door. With friendly staff, a soothing, sophisticated milieu and state of the art equipment, every aspect provides an optimal environment for healing.
Without exception patients can expect their entire therapy session to be not only private, but spent with the therapist assigned for the duration of the appointment. "If that means thirty minutes or a full hour, we never double book and we will never leave to see someone else," says Nichting. This individualized motto certainly sets Regain Physical Therapy and Wellness apart from the rest. And patients are thriving.
vRegain works with a wide range of impairments, disabilities, or any changes in physical function due to injury, surgery and/or disease process. Nichting and her staff also work with persons requiring physical therapy after a stroke or neurological deficit. Keeping up to date with continuing education, Nichting and staff are constantly attending educational seminars in conjunction with obtaining the latest certifications, enhancing their individual practice with the latest innovations offered. Other services include wheelchair evaluations to advise individuals on proper seating and positioning.
With continued growth and success Nichting looks into the future with plans to broaden the scope of overall wellness. Collaborating with current patients and the community, Nichting feels being proactive about our health is the key. She has been working closely with colleagues to bring a unique approach regarding community outreach and expansion within. Educational seminars and nutritional supports are among the many ideas being discussed and the vision is to create a platform empowering each patient to advocate for their individual health.
For further information please visit www.regainpt.com