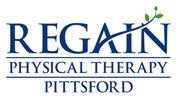 ---
Here at Regain Physical Therapy, our fun and energetic team is dedicated to creating and providing a comfortable and caring environment.
---
The staff at Regain Physical Therapy have a mission to provide compassionate, personalized, and revolutionary treatments that help our patients regain function by decreasing pain and improving strength and confidence. We first work to understand our patient's history and individual needs, and then work together with them to maximize results, ensuring a safe and quick return to a high quality of life.
We specialize in providing revolutionary treatment programs to get our physical therapy patients better as quickly as possible. We can help if you are limited by pain, injury or discomfort. Our facilities, expertise, and commitment will help restore the quality of life you desire faster and better than any other clinic. Don't put it off. The longer you wait the more serious your problem may become.
We are conveniently located near the village in Pittsford, NY. Our central location allows us to serve patients throughout the Rochester area including Pittsford, Penfield, Brighton, Fairport, and beyond! Learn more about us today!
---
Regain Physical Therapy is made up of a team that uses their knowledge of how the body works, and what the body needs in order to heal fully and faster. Using the custom physical therapy solutions that Regain Physical Therapy provides, we can help you get back to living YOUR life again.
Let our strength help you Regain yours!