The fourth annual run will take place on September 25th, 2016, and start in Center Park, in Fairport, NY. It will be immediately followed (9:05am) by a 1-mile 'fun run/walk' open to families and children. The event is presented by the Pittsford Mom's in Motion with proceeds benefiting the Heather Frazer Boyum Iron Angel Memorial Foundation. The Platinum sponsor of the 2016 Iron Angel 5K run is Regain Physical Therapy in Pittsford.
Read the full article here
If you have any questions about the run, please don't hesitate to contact us.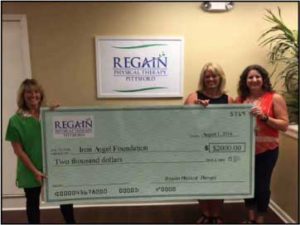 A little more information about the Iron Angel run:
This run is in memory of Heather Boyum. She was an avid runner and cyclist as well as a biology and chemistry teacher. She completed a half-Ironman Triathlon and was training to compete one day in a full Triathlon. Her personal motto of "Chose Happy" lives on today.