Tips for Improving Office Posture
To prevent pain at the office
Office Chair: Height of chair should allow your feet to be flat on the floor and thighs to be parallel to floor. If chair height is not easily adjustable you can use a foot rest or stool to prop feet. Arms should rest gently on arm rests with shoulders relaxed.
Computer Monitor: Place directly in front and about one arm length away from you. The top of the monitor shoulder be at or slightly below eye level when seated.
Keyboard: Should be centered between shoulders with wrists straight, upper arms close to body and hands at or just below level of elbows. Keep the mouse close to you and the keyboard so that you are not reaching too far forward.
Key objects: It is important to keep heavily used items such as a phone or stapler, close to your body to minimize reaching. Use phone on speaker or a headset rather than cradling it between your head and neck.
Get up and move. Change positions frequently and make sure to stand up, walk around and or stretch regularly throughout the day, even just for 1-2 minutes.
Avoid unbalanced postures. Unbalanced posture include sitting with your legs crossed or leaning to one side. Try to make sure your ear shoulder, elbow, and hip are all in one line.
What if you do have pain? Correct office posture and ergonomics can help prevent neck, back, shoulder, wrist and finger pain but if your pain is not diminishing after a few days, call Regain Physical Therapy 586-3819 for an evaluation and treatment to help get you back to work ASAP!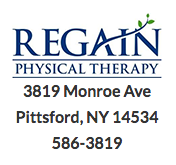 Click here for the downloadable version.