What Sciatica is and What You can do About it
Overview on Sciatica:
Sciatica refers to pain down the leg which occurs when the sciatic nerve is compressed. The sciatic nerve can be compressed by a herniated disc, a bone spur on the spine, or a narrowing of the spine (spinal stenosis). This nerve goes from the low back to the hips, buttock, and down both legs.
Sciatica typically resolves with conservative treatment in several weeks, but severe cases may take longer or need surgery.
Signs and symptoms may include pain that can vary from a mild ache to sharp pain, tingling, numbness, burning, and muscle weakness. Symptoms may worsen with prolonged sitting. In most cases it only affects one side of the body.
Physical Therapy Can Help You By:
Assessing posture and recognizing muscle imbalances or improper body mechanics that may be exacerbating symptoms.
Relieving pain with manual techniques and modalities such as electric stimulation or low level cold laser therapy.
Developing a complete plan for core stability and lower extremity strength and flexibility while educating on body awareness, posture, body mechanics, and symptom management at home.
Providing recommendations for an ergonomic work space.
What You Can Try:
Sit all the way back in a firm chair, feet flat on the floor, with your ears directly over your shoulders. Use a lumbar roll or a rolled up towel to help maintain the natural curve in your lower back.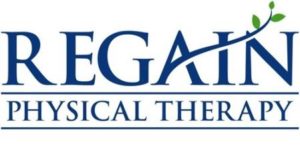 3819 Monroe Ave.
Pittsford, NY 14534
585-586-3819
www.RegainPT.com
Click here for the downloadable version.