For safe and pain-free Spring Cleaning
Think of the Basics: It is important for the whole body, including the joints and connective tissue, to stay hydrated, so drink water frequently while doing spring cleaning. Set attainable goals, don't rush through a full day of housework or you may neglect to pay attention to proper body mechanics. Listen to your body, if something is painful, then stop—it's the body's way of communicating a problem. Remember that working through the pain is only going to augment any potential injury. Make sure to take rest breaks and ask for help if you need it.
Body Mechanics:
When vacuuming: keep the vacuum handle at your side the whole time and walk and areas in corners instead of reaching out with your body to maintain a neutral spine position.
When mopping and sweeping: avoid stooping or leaning too far forward by moving your legs back and forth and work on small areas at a time.
When washing windows or painting: use a secure ladder or step stool to stay level with the area you are washing/painting rather than stretching, pulling, or twisting your back and neck. Over-reaching with your arm may seem quicker, but tends to cause more pain especially in the neck and shoulders.
Proper Lifting Technique: Keep containers, boxes, and laundry baskets close to your body at your center of gravity. Bend at the knees and hips, not at the back, to avoid muscle or disc injury. Be sure to activate your core and use your leg muscles to lift.
What if you did get hurt? If your pain is not diminishing after a few days, call Regain Physical Therapy at (585) 586-3819 for an evaluation and treatment to help get you feeling better!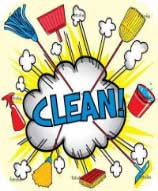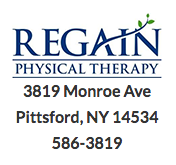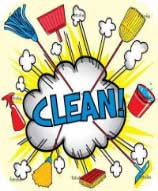 Click here for the downloadable version.