Benign Paroxysmal Positional Vertigo
General Information on Vertigo BPPV: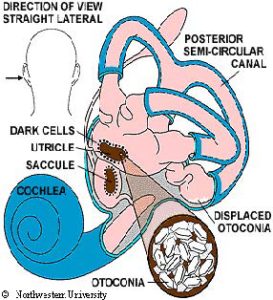 This type of vertigo is an inner-ear problem.
Occurs when small calcium crystals called otoconia become dislodged from the utricle and enter into fluid in other regions of the inner ear, often the posterior semicircular canal.
Nerve endings become stimulated by these crystals that change position with movement but send conflicting messages due to being in the wrong location. Input on position, gravity, and movement differs from visual and other sensory input which lead to symptoms.
Symptoms include: vertigo (sense of you or surroundings spinning), lightheadedness, loss of balance, nausea, vomiting, and nystagmus (drifting and flicking of eye).
Symptoms occur with head movements, often lying down or turning in bed or looking up, and symptoms last under 2 minutes per episode.
Causes: Mild to moderate head/ear trauma, ear infection, Meniere's Disease and often unknown cause.
Physical Therapy Can Help You By:
Testing your symptoms with specific tests to diagnose BPPV that will guide the treatment.
Most patients feel complete relief following one session, but recurrence can happen and PT can give you home self-help exercises to correct the crystal placement.
Appointment Information:
Some people experience an increase in symptoms during testing to confirm BPPV and since it is important following relieving intervention to minimize neck movement and crystal displacement, a driver might be helpful on appointment day.
Minimize activities 48 hours after appointment: avoiding bending, nodding, reading, quick movements. Some find it helpful to wear cervical collar to help keep neck immobilized for this 48 hour timespan.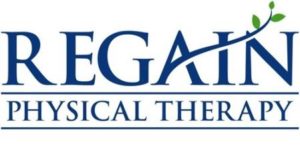 3819 Monroe Ave.
Pittsford, NY 14534
585-586-3819
www.RegainPT.com
Click here for the downloadable version.